We are human. We are a small, dedicated team of thinkers, creators, makers and outdoor enthusiasts. We are serious about making badass outdoor products so you have a happier experience.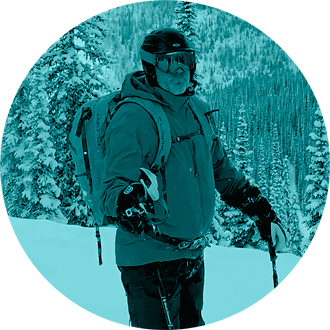 Dana first moved to Colorado after college to take a year off as a ski bum. Although he moved around for a bit after that initial introduction, he found his way back more than 20 years ago and has been enjoying an active lifestyle in over 300 days of sunshine ever since. Dana grew up in New England on Long Island Sound, and as a kid got to take family vacations boating, skiing, and camping. While he misses the salt water, the mountains have proven a wonderful place to raise his family. And he is quick to point out that they still get lake time in Colorado and sneak off to enjoy salt water and beaches on vacation.
FAVORITE PART OF MY JOB: Getting to work with great teammates.
FAVORITE FROSTY BEVERAGE: New Image Vermont DIPA. And I'm a sucker for a good Arnold Palmer. Oh, and vanilla milkshakes!
FAVORITE PLACE TO CAMP: It's hard to choose with so many great options in Colorado, but I still love to go back to my roots and hit sections of the AT in New England.
BUCKET LIST ADVENTURE: Haute Route on skis.
BEST PART OF CAMPING: Taking my boots off at the end of the day.
SPIRIT ANIMAL: Dolphin.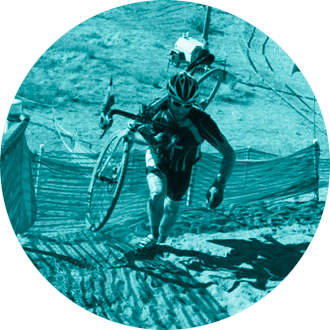 As a Boulder native with the mountains in his backyard, Andrew became a connoisseur of the outdoors at an early age. Exploring the Flatirons after school quickly led to a long list of outdoor pursuits ranging from rock climbing, cycling (of all types), skiing, trail running, and fly fishing. Fortunately, his wife and family enjoy most of those activities too, so he gets the hall pass often. Eventually all of this led him to the outdoor industry, where he's been camped out for over 20 years.
FAVORITE PART OF MY JOB: Hanging out with like-minded people and talking gear all day.
FAVORITE FROSTY BEVERAGE: Typically just about any kind of beer, but currently falling down the rabbit hole of craft whiskey.
FAVORITE PLACE TO CAMP: Just about anywhere in Utah.
BUCKET LIST ADVENTURE: Fly fishing in British Columbia.
BEST PART OF CAMPING: Sunrise/sunset.
WHAT I DO TO RELAX: Put my feet up and read.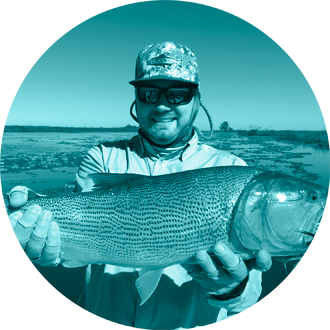 Born and raised in Ukraine, Roman moved to the US when he was 15. As a kid, he got to spend his summers in the mountains with his grandparents, which encouraged him to explore and be independent at a young age. When he moved to New York City, it was as if the whole world opened up to him - it's incredible how easy it is to travel, and how much there is to see here. After college, he moved out to UT, then CA pursuing his snowboarding passion. Eventually, he settled in CO where camping and fly fishing took over.
FAVORITE PART OF MY JOB: Experiencing all the different cultures while working with International dealers, and international travel.
FAVORITE FROSTY BEVERAGE: Any Belgian style brews.
FAVORITE PLACE TO CAMP: High Alpine & NEW places - I like exploring.
BUCKET LIST ADVENTURE: I have two: To catch every species of trout & salmon in North America, and Taimen fly fishing in Mongolia.
THINGS I HATE: Onions, garlic, avocado!!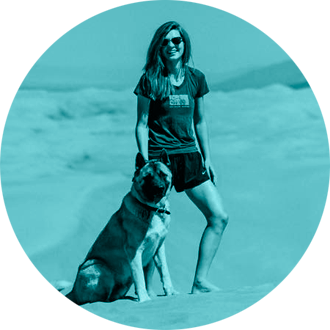 Zoe was born and raised in Denver and grew up scrambling up rocks on the side of Mountain Evans and wandering down trails in Estes Park every weekend. She decided that there was no reason to leave the beautiful state of Colorado and went on to graduate with a marketing degree from CSU. Her next career move took her into the music industry as a marketer for venues in Denver and Dallas, but her love of nature eventually brought her to work in the outdoor industry. An avid backpacker, hiker, camper, forager, beginner fly fisher and burro runner, Zoe loves pretty much any activity you can do outside as long as her trusty side-pup Nahko is along for the adventure.
FAVORITE PART OF MY JOB: I love getting to share my passion and love of the outdoors with my coworkers, outdoor enthusiasts, people who have never been camping and everyone in between.
FAVORITE PLACE TO CAMP: Anywhere with an alpine lake really, but specifically Blue Lake in Telluride, Humantay Lake in Peru or Seven Rila Lakes in Bulgaria.
BUCKET LIST ADVENTURE: Honestly too many to count, but backpacking in the Andes Mountains in Patagonia and in Northern India / Nepal are at the very top of my list.
FAVORITE FROSTY BEVERAGE: Sour beers.
BEST PART OF CAMPING: Sharing laughter and stories with friends and family away from the distractions of technology and everyday life.
THINGS I HATE: Traffic, people who hike with speakers, pickles.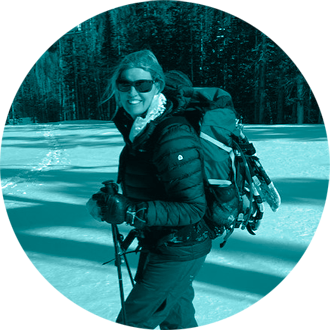 Amy grew up on the East Coast, and would find any opportunity to be outside, even if it meant to drive hours to kayak or climb. She has worked in the outdoor industry her whole career, so relocating to Colorado has been the best move! Exploring the mountains hiking, biking, camping, being with her family and dog is her passion. A sense of adventure has always kept her active and open to new experiences. Nature restores her!
FAVORITE PART OF MY JOB: Experimenting with new ideas for product.
FAVORITE PLACE TO CAMP: Twin Lakes.
BUCKET LIST ADVENTURE: Taking the family to Belize.
BEST PART OF CAMPING: Setting up a hammock and getting to read.
WHAT I DO TO RELAX: Hiking with my dog Bella
TERRIFIED OF: Snakes, and my son owns one!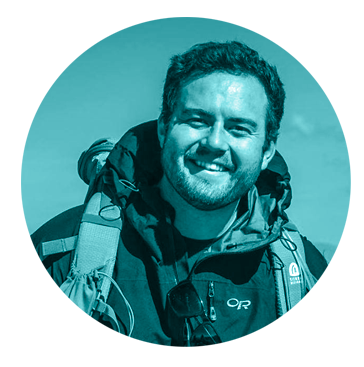 ASSOCIATE PRODUCT MANAGER
After growing up in San Jose, California, Ryan came to Colorado for school (Go Buffs!) and decided that skiing, mountain biking, fly fishing, hunting, craft beer, and everything else Colorado has to offer were worth making the move permanent. With a pure love for the mountains and being outside, he is an avid outdoorsman and spends any night he can out under the stars. He joined Sierra Designs on the marketing side, and has since switched into Product Management. He brings his love of the outdoors and the desire to share that with others to the brand.
FAVORITE FROSTY BEVERAGE: Chocolate Milk/Pale Ales.
FAVORITE PLACE TO CAMP: Right at the base of Lone Eagle Peak.
BEST PART OF CAMPING: Watching a great sunrise, preferably with alpenglow.
WHAT I DO TO RELAX: Anything involving being outside.
TERRIFIED OF: Drinking out of a Nalgene in a moving car.
THINGS I HATE: Wind.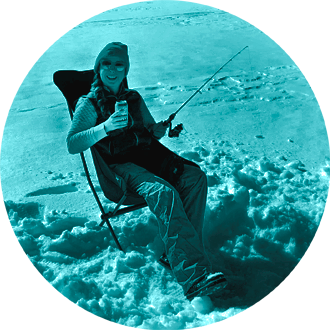 Cierra grew up in the mountains outside of Steamboat Springs riding horses on BLM trails, camping in Routt National Forest, and skiing (Nordic, ski jumping, and alpine). This upbringing left her with a strong love for public lands and a passion for Mother Nature. After attending CSU (Go Rams!), she now calls the Front Range home while still spending as much time outside and in the mountains as possible. She enjoys gardening, hunting, car camping, hiking, and taking pictures of wildflowers.
FAVORITE PART OF MY JOB: The community. The outdoor industry is filled with strong bonds and is working towards building a better future for everyone!
FAVORITE FROSTY BEVERAGE: IPAs for days!
FAVORITE PLACE TO CAMP: Flat Tops Wilderness Area in White National Forest.
BUCKET LIST ADVENTURE: Thru hiking the West Highland Way in Scotland, or the Wild Atlantic Way in Ireland.
WHAT I DO TO RELAX: Gardening, reading fiction novels, and watching RuPaul's Drag Race.
THINGS I HATE: Weeds in my garden, celery, and systemic and institutional oppression.
APPAREL DESIGNER & PRODUCT DEVELOPER
Born and raised in Baton Rouge, Louisiana and moved to Colorado during high school. Christine's interest in the outdoor industry sparked while working for a ski company in Boulder. After a few years, she wanted to live "the dream" as a snow bum and rack up 100+ days a season. So, she moved to Vail, CO and worked the two jobs it took to pay for rent but waking up every day in the mountains is priceless! Her passion for the outdoors grew into design ideas which required schooling. Christine had to give up one dream to follow another. Her dreams became a reality when joining the Sierra Designs team. Although she's not clocking 100+ days a season, the mountains are still in her heart and she keeps it as the driving element in all her inspirations.
FAVORITE PART OF MY JOB: Watching someone put on a design and seeing their look of excitement and interest. It brings me a satisfied feeling knowing people are supportive in what I do and are stoked about it.
FAVORITE FROSTY BEVERAGE: If it's not a Hydro Flask full of water, then please pass me a cold IPA (kooze included of course)!
FAVORITE PLACE TO CAMP: San Juan Mountains, Ouray, CO.
BUCKET LIST ADVENTURE: No particular order – Thailand beach trip, Europe (anywhere from Norway to Italy), snowboarding in New Zealand, snowboarding in Japan.
BEST PART OF CAMPING: Cooking delicious food in the outdoors, community with friends and family
SPIRIT ANIMAL: Difficult to connect to one animal. I find myself connected to many. My husband calls me the animal whisperer.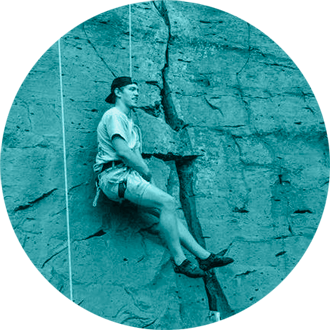 DEALER SERVICES REPRESENTATIVE
Originally from KCMO, Spencer was getting pretty used to traveling to the mountains for skiing/backpacking trips his entire life, until about 5 years ago when he began his outdoor industry career as a Ranger at Philmont Scout Ranch. From there, he continued to follow outdoor pursuits more and more steadily, picking up rock climbing and backpacking as hobbies along the way. After college, he officially moved out to Colorado where he managed dealer accounts for a board sports company in Colorado Springs and eventually ended up at SD. Loves every minute of his time in CO (so far) and the people his career path has led him to meet!
FAVORITE PART OF MY JOB: Getting to work with shops all over the world by helping equip them with the gear they need to then help their customers opt outdoors.
FAVORITE FROSTY BEVERAGE: Big craft beer guy, personal favorite is the Hazy IPA from Goat Patch Brewing (Colorado Springs).
FAVORITE PLACE TO CAMP: Along the Rio Grande Gorge near Taos, NM.
BUCKET LIST ADVENTURE: Thru-hike the Camino de Santiago.
WHAT I DO TO RELAX: Longboard or read.
TERRIFIED OF: The open ocean.