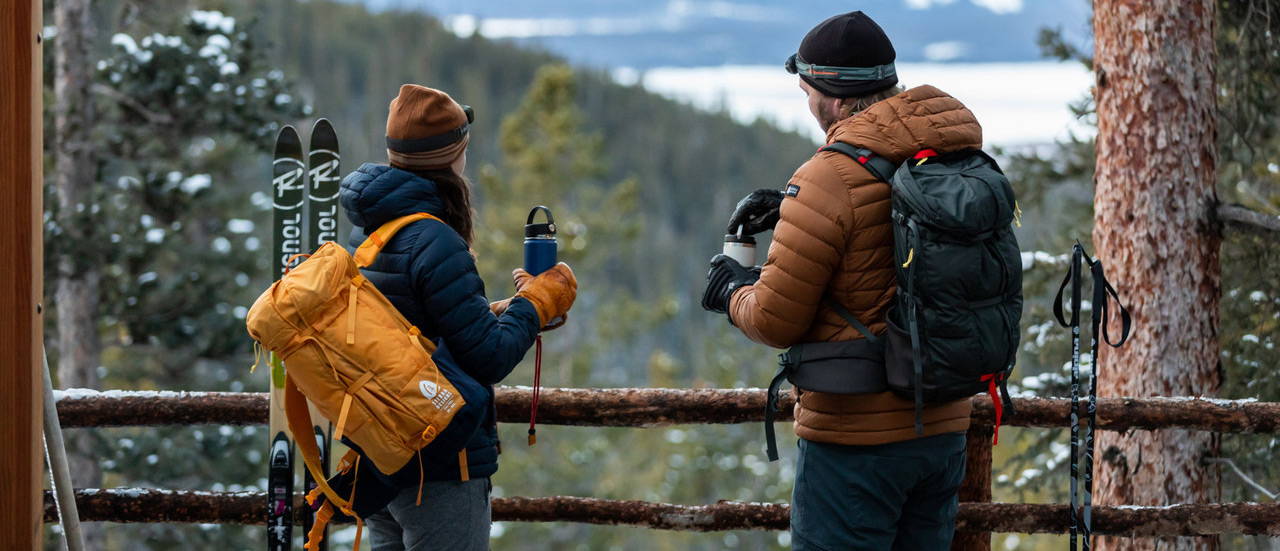 REVOLUTIONIZING GEAR SINCE 1965
We've been designing backpacks, sleeping bags and apparel since the golden age of backpacking and climbing. Today, our rebellious crew of industry vets and young innovators are on a mission to fundamentally redefine how we live in the backcountry. We create outdoor solutions from equal parts common sense and uncommon thinking. Our outdoor products are all specifically designed to make getting outside, easier and more enjoyable.
Sierraloft™
Found in many of our Synthetic Sleeping Bags, SierraLoft™ Synthetic Insulation provides a silkier hand feel, a higher loft, faster bounce-back time after compression, and a much higher warmth to weight ratio, ensuring superior performance and lighter weight than other synthetic insulations.
Benefits:
Extremely lightweight

Superior warmth when conditions are wet and cold

Provides insulation even when your sleeping bag gets wet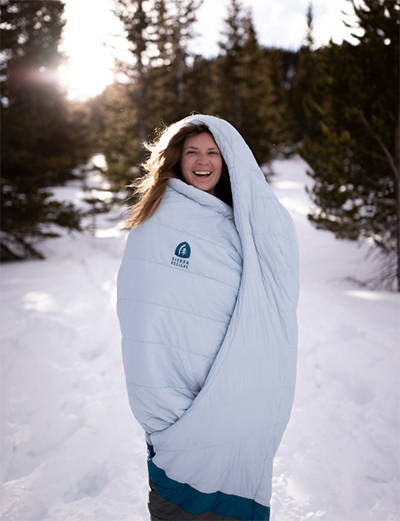 Primaloft™ Eco Silver
Found in our Borrego Jacket and Tuolumne Sweater, Primaloft™ Eco Silver insulation provides robust warmth, packability, and comfort in layering for all activities. This insulation is also made from 70% recycled content.
Benefits:
Dries significantly faster than down and performs superbly in wet weather

Extremely durable, lightweight, and packable, perfect for outdoor adventures

Highly breathable with fantastic thermal retention to keep you dry and warm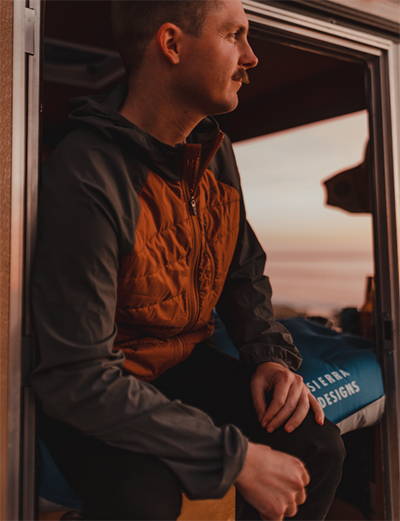 DAC Aluminum
Our Lightweight Tents feature DAC aluminum tent poles that have incredible strength to weight ratios. Utilizing both Featherlite and Pressfit pole sets in Sierra Designs tents, we're able to shave weight, increase strength, and increase internal volume, all without adding additional poles, to give you a more comfortable, packable tent.
Benefits:
Extremely lightweight, perfect for backpacking

Superior strength allows us to reduce the amount of poles needed to secure your tent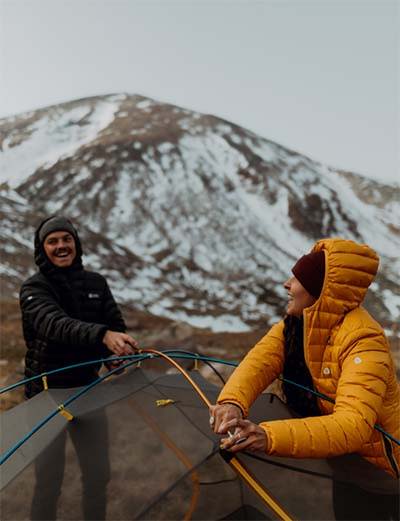 DriDown™
Found in many of our insulated jackets and down sleeping bags, DriDown™ is natural down insulation treated with a molecular level polymer, creating a hydrophobic finish on individual down plumes. All Sierra Designs down is DriDown™, and the result is insulation that stays dry longer, lofts better, and dries faster than untreated down.
Benefits:
Lightweight warmth that stays dry 10x longer, and dries 33% faster compared to untreated down

Extremely packable, stows into zippered pocket

High quality fill power and loft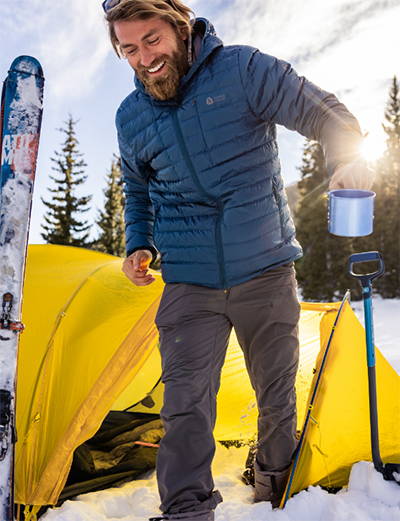 Y-Flex Aluminum Stay
A central aluminum hub and three separate stays allow our Y-Flex suspension to comfortably carry any load. The Y-Flex adds lightweight support to the Flex Capacitor and lets the lightweight bag hit above its weight class with comfortable carry.
Benefits:
Lightweight suspension

Allows for a more natural range of body movement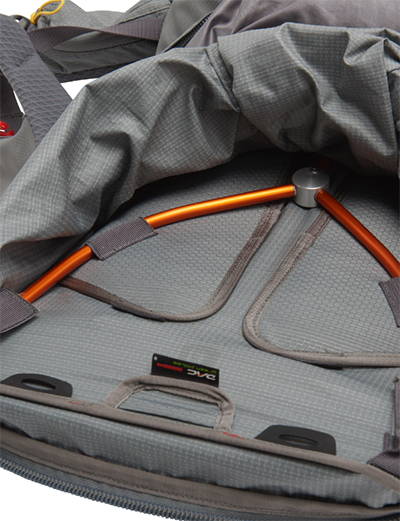 Flex gusset
The capacity of your pack is up to you with the patent-pending flex gusset found in the Flex Capacitor. The horizontally expanding gusset changes the volume of the pack to perfectly fit any load the pack can carry. Rather than just compress the pack, you're able to tailor the pack to fit your needs.
Benefits:
Expandable volume for versatility in use

Custom compression for compact loads

Extra straps to attach additonal gear to the outside of the pack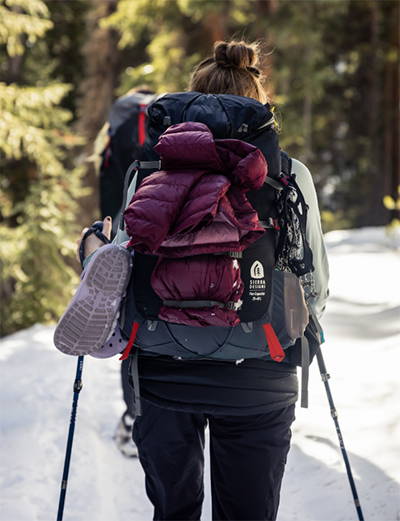 ZIPPERLESS SLEEPING BAGS
We've ditched the zipper on some of our bags, and instead replaced it with an oversized comforter that mimics your bed at home. Without a zipper, you can move about freely and sleep how you want without restriction and with more comfort. The comforter seals up with the rest of the bag and keeps heat in due to its oversized nature.
HAND POCKETS
To help seal everything up in our zipperless bags, we have hand pockets located high on the integrated comforter. Just slip your hand in, and you can pull everything nice a tight around you.
Benefits:
Great for stomach and side sleepers

Reduced restriction, oversized comforter just like your bed at home

Hand pocket allows you to wrap the comforter around you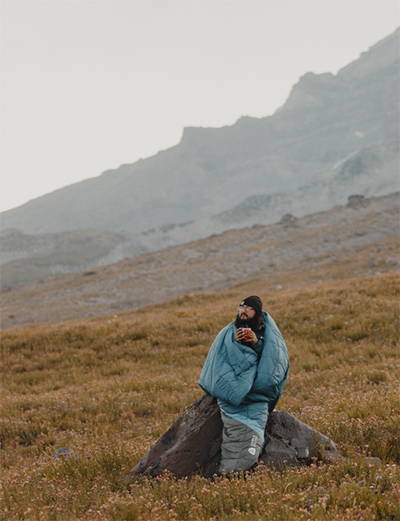 Self-sealing Footvent
Sierra Designs sleeping bags feature our patented self-sealing footvent, to make easy venting a breeze. The footvent allows you to kick your feet out of the bag to cool off a bit, and seals up when not in use to retain heat on chilly nights.
Benefits:
Quickly cool down when you're overheating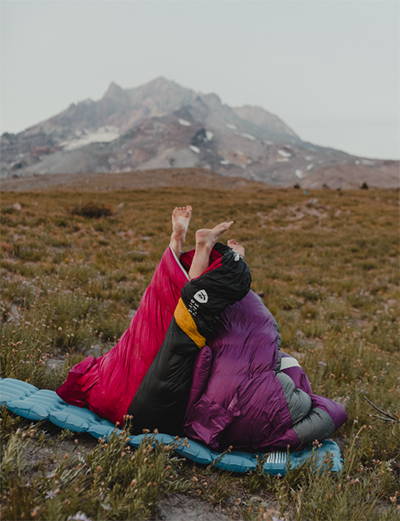 Sleeping pad sleeve
Bags with our pad sleeve allow you to insert your sleeping pad into the back of the bag. This keeps you from slipping off of your pad, prevents the bag from twisting, and replaces unnecessary bottom insulation to save weight, and overall gives you a more comfortable night's sleep.
Benefits:
Keeps you from slipping off your pad while sleeping in your bag
SWIFT CLIPS
Swift Clips replace traditional pole sleeves to reduce weight and make setting up your tent a breeze. Once staked out, you can set up a tent in under 20 seconds. Seriously.
Benefits:
Extremely fast set up of your tent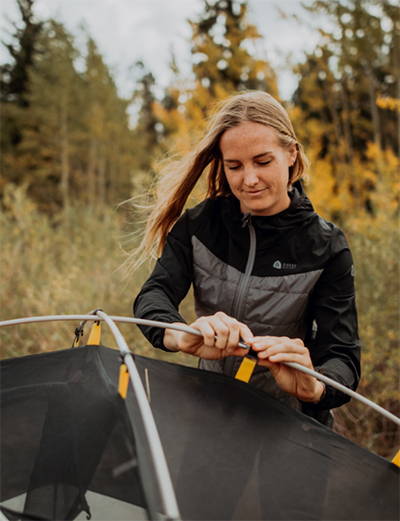 TWILIGHT TECHNOLOGY
This 75-denier fabric blocks 98% of light, so you can sleep in or take a mid-day nap. It also reduces heat inside the tent making for a more comfortable stay at any time of day. Offering increased water protection, you won't need to worry when there's a downpour in the forecast.
Benefits:
Reduces heat inside of tent

Increased water protection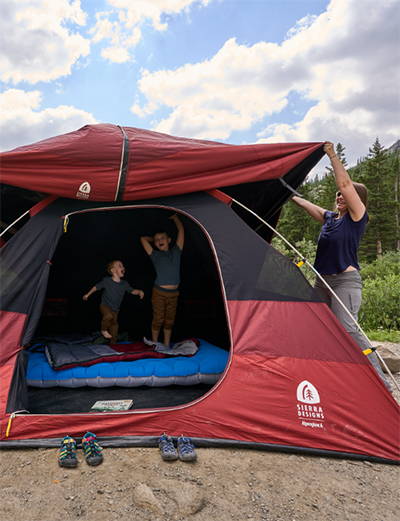 STARGAZER FLY
Tents with our stargazer fly feature let you roll up the fly and remain partially covered, so you can have unobstructed views of the night sky.
Benefits:
Beautiful nighttime views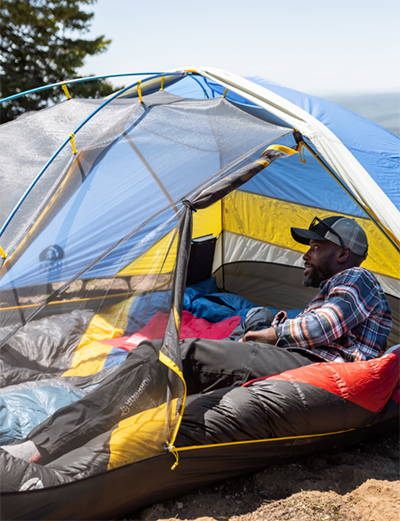 BURRITO BAG
Sierra Designs tents come packaged up in our burrito bag, allowing you to put your tent away, even with a less than stellar roll. Simply drop your tent in, cinch the cord, and pull the compression straps. No more fighting with a stuff sack!
Benefits:
Keep your gear organized and protected
PORCHABLE AWNING
Tents with porchable awnings have a purpose built vestibule panel, that when paired with trekking poles, allows you to guy out an awning for additional shade and ventilation.
Benefits:
Creates additional shade and protection for yourself or your gear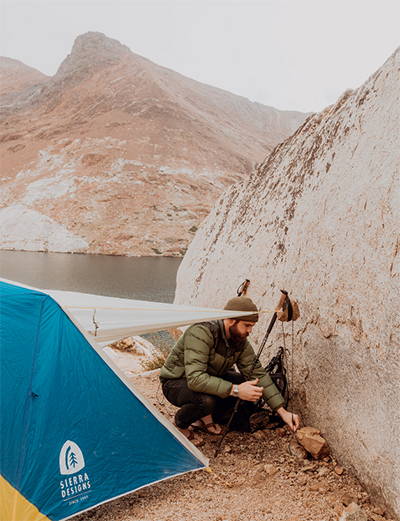 ALUMINUM TENT FOOT
Sierra Designs tents feature an aluminum foot that pair with special ends on our pole sets. Once pressure is applied, the poles lock into place and resist popping out, to aid in stability and ease of setup.
Benefits:
Additonal stability and ease when setting up your tent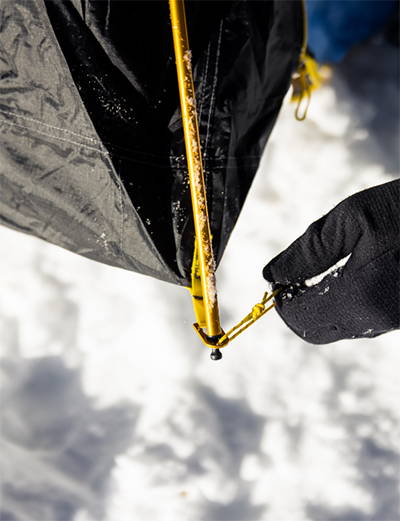 UNITING TRADITION AND INNOVATION
TO REDEFINE YOUR BACKCOUNTRY ADVENTURE.